The transformation project of Jiangsu yingyou textile machinery co.,ltd has passed acceptance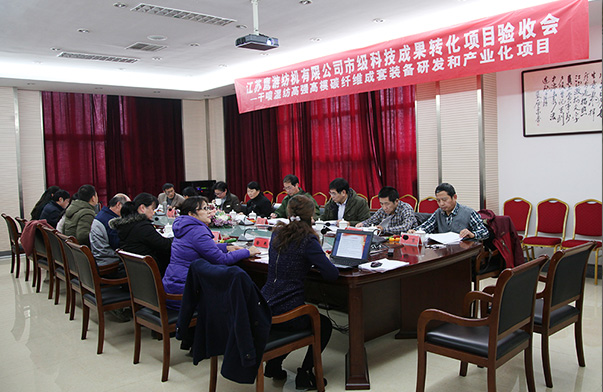 On December 8, lianyungang city technology bureau, bureau of finance organization experts came to eagle to swim, to swim in Jiangsu yingyou textile machinery co.,ltd company for the municipal scientific and technological achievements into a special fund project - "dry jet wet spinning with high strength and high modulus carbon fiber research and industrialization of complete sets of equipment for acceptance.
The members of the acceptance panel listened to the introduction, technical report and financial and benefit analysis report of Jiangsu yingyou textile machinery company. The relevant technical documents, special audit reports and financial vouchers are reviewed. After reviewing the implementation site of the project, the members of the expert group agreed to pass the acceptance.
Through the implementation of this project, a large amount of domestic carbon fiber on the market, effectively impact the carbon fiber companies abroad long-term monopoly in the domestic market, reversing the situation of carbon fiber totally dependent on import in our country, promote high performance fibers in our country and the development of related industries, such as advanced composite materials, as well as the rapid development of regional economy has made due contributions. It is understood that the project obtained the patent authorization 4 pieces during the implementation period; we obtained 8 patents of utility model, and formulated 3 product enterprise standards.